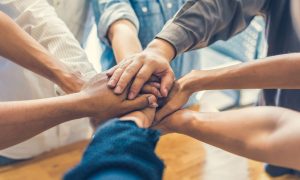 Wonder what a career at Agri-Access is like? As a secondary market lender, we're passionate about finding solutions for agriculture lenders and producers across the U.S. If you thrive on teamwork, problem-solving and opportunity, you'll find your fit with us!
But don't take our word for it. Our team finds we offer a positive, welcoming work culture, shared values and purpose through agriculture, variable workdays and ample opportunity to problem solve and elevate our company and clients. Read on to learn more about what we offer as a workplace to grow your career.
Positive & welcoming work culture
As with any major life change, changing jobs ushers in excitement with a healthy dose of stress. Our newest team members were delighted to find helpful and welcoming team members, assuring them right away that Agri-Access was a smart career move.
Joscelyn Smith, team leader business solutions, felt included from day one, which is impactful considering she was hired through a staffing agency for a three-week contract.
By the end of the first Friday, she knew Agri-Access was where she wanted to stay.
Project management specialist Madeline Mehmedovic joined the team in December 2020, and she knew right off the bat that Agri-Access was a great fit for her. "I really like the culture here," she says. "My coworkers and boss are great and that has made my job transition fantastic."
Alex Resner, solutions analyst, spends much of his time focused on Agri-Access Lender Portal, listening to client feedback and collaborating with the team to upgrade the technology and user experience.
"The people here are my favorite part of Agri-Access," he says. "The level of passion and ownership for the client experience that everyone has is incredibly contagious. It helps drive an inner fire in me to see how much we can accomplish with this team and to see us all continue to go above and beyond."
Shared values with agriculture
Tim McTigue appreciates the culture and character of agriculture, with its emphasis on building fulfilling business relationships.
"It's a very satisfying segment of the economy to be involved in," he says. Taking on a business development role at Agri-Access was his opportunity to have an impact on rural communities.
Because many employees have roots in agriculture, they understand and appreciate business and know what's at stake.
Philip Clark, manager of credit, has farmed his entire life, so talking about the business is second nature, enabling him to be impactful in his Agri-Access role and identify practical solutions.
Take, for example, the tractor listed on the borrower's loan application: "I know exactly what it is, what it's worth to them and why they need it," he says.
No two days are alike
Office roles at Agri-Access have no shortage of variety. But if you enjoy getting out of the office from time to time, several roles offer trips into the field.
Chief lending officer Colin Clyne spends a large part of the day answering questions and reviewing loan narratives to clients. But work finds him donning jeans and boots to meet face-to-face with a farmer.
"I love learning from and helping both sides of the agricultural business," he says.
Diane Zelhart, certified general appraiser, can be found at her desk, poring over satellite imagery or in the field surveying properties and meeting clients in person.
"I love to see the diversity in the countryside. No two days are exactly the same, and that's exactly how I like it," she said.
Peggy McManis, team leader of lending operations, loves her job and the fact that "there's no such thing as a typical day."
"We're always juggling multiple projects and I love that about my job," she says. "We get to help so many different people. I closed two loans yesterday and I'm going to close another one tomorrow. It's just wonderful to see business moving forward."
Pulling together as a team
Loans at Agri-Access serve many needs, such as leasing parcels for wind farm development, transferring ownership or refinancing for a lower interest rate. As obstacles arise, Kari York, senior loan servicing specialist, thrives on finding innovative solutions with her team.
"For me, it sets us apart, and makes us a good partner for the lending network we work with," she says. "The smaller the banks are, the less flexibility they have," she reflects. "We're fortunate to be able to bring some of those flexibilities to them. I like to give them options, even if the first solution doesn't work."
Adam Sperfslage finds purpose in his role as business solutions specialist. "My favorite part about our job is helping people," he explains, "providing Agri-Access personnel tools to make their job easier, and making our clients' lives easier as well."
Interested in a career with Agri-Access?
Agri-Access is a division of Compeer Financial, offering long term fixed rates and variable rate options to a nationwide network of lenders. Compeer offers employment opportunities with Agri-Access in the areas of credit, sales, closing and servicing. View our current career openings and apply today!