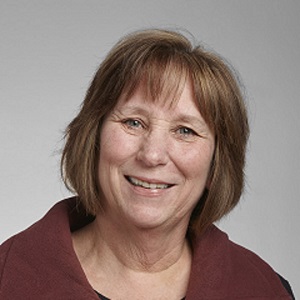 Thirty-seven years. That's how long Kari York, Senior Loan Specialist, has been with Agri-Access and its parent company. Whatever your questions, whatever your challenges, Kari's got the knowledge and experience to find a solution.
She reminisced about her impressive tenure when we sat down to an interview. "I've done lots of different roles. Started as the secretary at the front desk, worked on some of our loan accounting with our customers. Unfortunately, I was also here in the 1980s, when the farm economy had some major struggles. So, at that point I did some time in the risk asset area, and worked with clients to make sure they could keep everything with the farm.
"I did that for five years, then I had an opportunity to start the Scorecard system we use today. Then the Agri-Access group started, and it fit what I liked, so I took the opportunity. It was fun, exciting and something new. I could see it was going to be a good product."
Problem Solving And Partnerships
In every position she's held, Kari has focused her efforts on problem solving. A lot can happen during the life of a loan, from leasing parcels for wind farm development to transferring ownership and securing better interest rates. When requests run into problems, rather than saying no she and her loan servicing team look for innovative ways to make things happen.
Finding solutions is "always great. For me, it sets us apart, and makes us a good partner for the lending network we work with."
Having also served as vice president of a community bank branch, Kari has firsthand experience of just how important a good partner can be.
"The smaller [the banks] are, the less flexibility they have," she reflects. "We're fortunate to be able to bring some of those flexibilities to them. I like to give them options, even if the first solution doesn't work."
Fulfilled By Friendships, Family
It comes as no surprise that, after nearly four decades, Kari has formed a lot of friendships. She's met great people and shared countless milestones with her colleagues, from marriages to children, and now grandchildren. She remembers Agri-Access crossing the first million-dollar threshold in loan volume. It was a thrilling moment. Now they're operating at 1,000 times that amount, and Kari's been a part of every step along the way.
Outside of work, celebrations and relationships are still where her heart's at. When off the clock Kari is always spending time with her children and grandchildren. Once things centered around her son's passion for go-kart racing. These days, it's all about her granddaughters and their love of hockey and horseback riding. Just this year she welcomed a new grandson.
"We'll see what he decides to do!" she laughs. "My grandkids are my new passion. Whatever they're doing, we're there!"