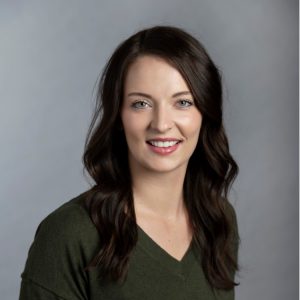 Who can say what a new day will bring?
That's the general mood at Agri-Access when it comes to closing loans. Senior Closing Coordinator Madeline Mehmedovic might find herself funding a loan for a pecan farm in the morning, executing a few rate locks before lunch, and reviewing land titles from multiple states in the afternoon. It's often a fast-paced job with enough variety to keep you perpetually on your toes. It demands checklists.
Fortunately, Madeline's a fan of that. "It's really satisfying for a personality like mine," she laughs. "I really like checklists!"
Looking For Something New
Madeline first came to Agri-Access in December of 2020. After three years closing commercial real estate in major markets across the country, she was interested in trying something new.
"I was looking for a change. I really liked closing, but I wanted to do something a little bit different."
"I really like the culture here," she says. "My coworkers and boss are great and that has made my job transition fantastic. My boss [Peggy McManis, Team Lead Manager of Lending Operations] is just a good leader. That's probably one of my favorite things with my decision to move."
Always Be Learning
After years of closing multi-million-dollar loans, Madeline was able to hit the ground running in her new position. However, with the incredible range of commodities and properties that agri-business encompasses, she feels it's essential to always be asking questions and improving her knowledge.
"No matter how long you've been doing things, you have questions," she reflects, "and I feel like everyone here is really willing to help and they're always open to questions."
It's this open collaboration that makes working with so many different properties, all across the nation, possible. From blueberries to timber, the mid-south to the eastern seaboard, it's the combined expertise of all Agri-Access personnel that makes such diverse deals possible.
Talented At Horticulture
While Madeline may not have grown up on a farm, she's not exactly a stranger to growing commodities. Her personal tomato operation is down to a modest 10 or so plants these days, but she was once tending to around 60 every summer. She can tell you the pros and cons of different varieties, down to their disease resistance and production times. Her favorite, for the record, are Early Girls.
When she's not gardening, she and her husband are often out and about with their three dogs, enjoying the outdoors. "We have two German shepherds and a lab. So, we like to go on walks and bike rides. We're all looking forward to summertime."