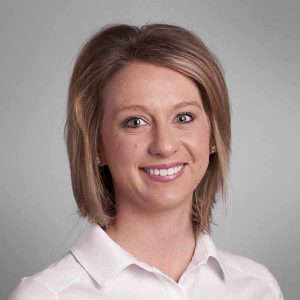 "I'm always looking to challenge myself," Diane Zelhart told me in our recent interview. "Everything comes with a learning curve, and there's nuances … but I can take the challenge. I'm ready to learn."
It's exactly that confident, ready-to-go spirit that made Diane Zelhart the obvious choice to transition into the Certified General Appraiser position at Agri-Access. It's a career that's seen an explosion of possibilities lately, but Diane's had no problem keeping pace. And it all goes back to how she was raised.
From sweet corn to satellite imagery
"I loved growing up in ag, and the work ethic that it teaches you. We did corn and soybeans, but on the side every summer we had a one-acre sweet corn patch. We'd pick sweet corn in the evening and the next morning, my grandpa and I would go uptown and sell it by the dozen." Diane laughed recalling this memory, confessing, "We kind of hated it at the time, but now I think I want to make my kids do the same thing!"
After graduating with a bachelor's degree in finance and ag business from Illinois State University, Diane wanted to continue with a life in agriculture. So, she dove straight into the world of agricultural and rural real estate appraisal. Now she's joined Agri-Access, excited to expand her territory and tackle new projects.
The work offers a lot of variety, between days in the office staring at satellite imagery and days in the field, surveying properties and meeting clients. And that variety suits her down to the ground.
"I love to see the diversity in the countryside. No two days are exactly the same, and that's exactly how I like it," she said.
Getting more done with Maven
With the use of restricted appraisal reports and the employment of an appraisal tool commonly referred to as "Maven", Diane and the rest of the Agri-Access appraisal team are making the appraisal process quicker and more cost-effective. Maven is produced by AgWare Inc. and is capable of trimming the appraisal process by days. Agri-Access policy changes have allowed for an increase in the utilization of restricted appraisal reports performed by Agri-Access Appraisers.
"Maven allows us to streamline the reporting process and statistically assist appraisers in selecting the most comparable sales," Diane explained.
"Maven saves money because, obviously, the less time we put in, the less we need to charge. That's beneficial to clients because they're always looking for a fast, cost-efficient answer to keep the loan process going in efficient time."
Still at home on the farm
When she's not working, Diane might still be found out in the field, helping her husband during harvest season. He farms alongside his dad and uncles, and Diane's happy to pitch in where she can.
"I like being a farmer's wife, I like to go out at harvest time and hang out in the tractor or combine. Take him meals. A lot of times I'll get asked to go get parts." She laughs again. "I usually just hope they have the right thing!"
Add to that her success as a yoga teacher and an ardent love for the outdoors, and it's clear Diane's appetite for a challenge isn't limited to her professional life. She seems to always be ready for the next, new thing. And that's a spirit we're glad to have at Agri-Access.