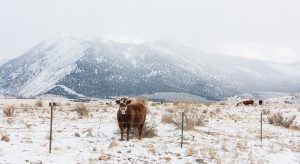 In ag lending, successful relationships are built on trust. Setting up the right expectations so borrowers understand the process is one crucial aspect of keeping that trust. Before you select Agri-Access's streamlined Scorecard lending program for refinancing or purchasing ag properties, make sure it's the right fit for the loan and borrower.
This quick guide lays out the differences between our scorecard model program and our traditional review for ag loans.
For expanded resources, you'll find everything you need in the Lender Portal.
Agri-Access Scorecard: The basics
Today's ag producer is like any other entrepreneur: They value speed and service, along with great rates. Streamlined lending options and a quick turnaround are a necessity vs. a nice-to-have.
By partnering with Agri-Access, your lending organization can meet borrowers where they're at, thanks to our Scorecard lending program.
What is Scorecard? Scorecard is our rapid response loan program. It uses a credit scoring model that assigns value to specific and limited inputs, enabling us to quickly gauge the risk.
Used primarily for refinancing or purchasing agricultural property.
Streamlined application. No requirement to submit the borrower's full balance sheet and tax returns for loans under $2.5MM.
Applicants must reach a minimum net score to proceed with the loan.
Faster credit decisions, with most answers arriving in generally less than 24 hours.
Requires a hard credit pull.
Learn more about our time- and cost-saving appraisal programs
Which loans are eligible for Scorecard?
Before pursing the Scorecard application, these are some basic requirements for the loan.
The lending limit is $4 million.
The value of improvements is no more than 50% of appraised value of the collateral.
Intended use is agricultural purposes – ag is the highest and best use.
The operation must be in good financial health. (For refinancing an operating loss, start with a traditional review.)
Can Scorecard be used for participation loans? Learn about participation loans at Agri-Access
Agri-Access traditional loan: The basics
Loans that aren't eligible for Scorecard would require a traditional review. But we do offer a tailored approach to meet the unique needs and circumstances of your borrowers. Most borrowers will receive a credit decision within three business days.
When to start with a traditional loan?
When your borrower wants to refinance or purchase agricultural property, these are the lending scenarios where a traditional loan is the first step.
Loan amount is greater than $4 million.
Property has highly specialized facilities.
The majority of collateral comes from highly improved properties.
Requirements for a traditional loan
Traditional loans require a full credit package, and the following is a quick list of items the borrower should provide. The Lender Portal has a full, detailed list.
Operation narrative
Credit report for each borrower and any guarantors
Expanded balance sheet
3 years of tax returns
Projected revenues
Operation cash flow
Background checks for borrowers
Our credit department uses a verification tool for loans that fall below a certain net score. This tool draws from public records to verify the borrower's business holdings and confirm whether there are any findings that would elevate the risk of the loan. There's no impact on the borrower's credit score.
The borrower has a derogatory finding: What's next?
As with any loan, certain circumstances in the borrower's background would flag the borrower as high risk, which can affect the outcome of the application.
Which findings have the most impact on the borrower's application?
Bankruptcy filing within the last 7 years
Felonies and gross misdemeanor convictions
An open federal or state tax lien and judgment
Do these findings prevent a borrower from getting approved for a loan? Not necessarily. Our credit department may decide to proceed with the application if, say, the borrower has established and maintained a clean record for several years after their bankruptcy.
Every ag operation is different, and producers face significant challenges. That's why we take a tailored approach to our lending process, and we weigh those factors in our decision making. We also rely on our banking partners to provide a complete picture of the borrowers. When you are aware of a situation that could create obstacles for your customer, communication is key.
In your search for answers about everything that has to do with Scorecard and traditional loans, Agri-Access has you covered.
Log into the Lender Portal to explore our resource library. We've created detailed guides for our loans and their requirements, and they're always a click away.
Agri-Access to provide more lending options
In the coming weeks, Agri-Access will announce additional lending options through two new products, in helping your ag clients succeed. Find a Relationship Manager here to discuss solutions that work for your ag clients.