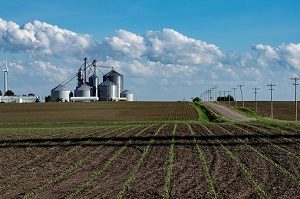 As today's ag borrowers search for convenient lending options, Agri-Access continues to implement new programs and tools to help you better meet their loan and appraisal needs. Two such programs designed to streamline the appraisal process, the MAVEN tool and the Agri-Access Farm and Ranch Real Estate Desktop Valuation program, are currently being utilized to help your customers gain access to funding more quickly. Use this overview of Agri-Access's appraisal options as a quick reference. To find out how these programs work, we first review the Traditional Appraisal analyses.
Agri-Access Traditional Appraisal
Whether requesting a full-service appraisal for step 2 of our '7 Steps to Loan Participation' process or requesting an appraisal for other needs, Agri-Access appraisers are ready to assist. While we have a nationwide network of offices and cover a lot of states, we can provide appraiser referrals for states where we are not licensed. Finding an appraiser with an Accredited Rural Appraiser (ARA) designation from the American Society of Farm Managers and Rural Appraisers is recommended.
There are three ways to submit an appraisal request:
Clients can complete an Appraisal Order Form from the Lender Portal.
Send an email to

[email protected]

.
Review the list of appraisers from the website and contact an appraiser directly.
The Agri-Access Appraisal Team will review the request and contact you to finalize the fees. We'll also review the timeline for completion and request any additional information needed. A Letter of Engagement for you to review and sign will be the final step before the traditional appraisal service begins.
The development of the report for the traditional appraisal will follow the guidelines from the most current version of the Uniform Standards of Professional Appraisal Practice (USPAP). Our appraisals are customized to meet your clients' specific needs, anticipate any challenges, and are clear and easy to understand.
Maven Helping Expedite Appraisals
Maven is a restricted appraisal report, which is condensed and completed by a licensed appraiser.  It mimics the sales comparison approach while applying any land and building adjustments.
A USPAP compliant product from Agware, Inc., the goal of the Maven tool is to reduce the time and cost of generating appraisals.
It's important to understand that the local appraiser still prepares and derives the final valuation. Expediting the reporting process creates cost and time savings efficiency — that's good news to your borrowers.
Farm & Ranch Real Estate Desktop Valuation Program
Another tool to expedite the appraisal step is the Agri-Access Farm & Ranch Real Estate Desktop Valuation Program.
Designed for individual loans up to $1.0 million that present basic bare land or minimally improved ag properties as collateral, this program offers a time and cost saving method to assess the value of collateral. In lieu of a USPAP Appraisal, a Qualified Evaluator would collaborate with the Agri-Access team to complete a valuation report on the collateral.
The report would include:
Aerial map
Property photography
Three or more comparable sales of similar land use types in the general region within the last 18 months
To participate, members of your lending organization can become Qualified Evaluators. To learn more about the requirements of becoming a Qualified Evaluator or how to determine which loans are eligible, contact a Relationship Manager or email [email protected].
Whether you're looking for a valuation for vineyards out west, acres of row crops in Iowa or dairies in the east, the Agri-Access appraisal team is a trusted resource for your lending team.