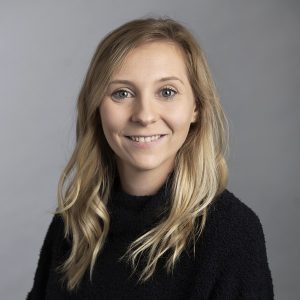 Ask Steph Lawson about what it's like to work at Agri-Access, and she will talk about the great relationships she's formed with her team members, along with the satisfaction that comes from helping a lender create a successful outcome for the end client — the producer.
She goes on to say that companies should be focused on client service, but it's equally important to focus on the internal team by cultivating a healthy, collaborative work environment. Perhaps more so.
"Because in my opinion, everything we give out to our lending partners and their end clients really starts from within," she says. "So if I didn't have that, it would definitely be more difficult to do what I do."
Finding her career traction in ag lending
Steph grew up in a rural Minnesota community of 300 people where many of her schoolmates and friends were growing up on the farm, and she had an up-close look at the effects of the farm economy on people's lives and the world.
Steph earned her business degree with hopes of following in the footsteps of one of her parents, who worked 40 years in the farm credit system. She could see the impact their work had on agriculture, and she wanted to be a part of that.
One of her first jobs out of college was at a community bank just five minutes from her childhood home. Working with farmers deepened her familiarity with agriculture. When she saw how Agri-Access, the bank's secondary lending partner — which she already knew of and respected through her parent's work — made the difference for her employer and the farmers, it only solidified her aspirations. So when the opportunity to be a loan servicing specialist at Agri-Access came along, she didn't hesitate.
"Seeing the direct impact of what our company does for farmers was what was the most intriguing to me," Steph said.
Making a difference through problem solving
Today, she loves the fact that not only is she helping the lender on the line, she's by extension helping the producer who's seeking a loan for their operation.
As a loan servicing specialist, Steph works directly with the lending partners to handle various servicing requests, such as partial releases, and other loan adjustments. The job comes with plenty of variety, along with complex issues that require collaboration with other departments, such as the credit and appraisal teams, to untangle. But Steph thrives on the variety and the challenges. The goal is always the same: Find a solution that provides a successful outcome for the end client, which is the ag producer.
Recently, she worked on a partial release where she found a mismatch in the legal description of the property. The original title company had missed the error, but Steph needed to see it was fixed to ensure the accurate number of acres would come off the loan. It required several days and three departments to untangle, but eventually, the team validated the parcel and released a section of the property that didn't belong on the mortgage in the first place.
"We see new things every day," Steph says. "I tell you what, it's definitely interesting. It keeps you on your toes and I don't think I ever leave a day of work without having learned something new."
Earning trust and building relationships
In her role, Steph has discovered the value of relationship-building, and strives to harvest deep relationships with all the lenders she works with. Contact with the various lending partners can vary simply because of the volume of work, so her ability to make inroads can vary.
That leads to what makes her job rewarding. When a lender calls her out of the blue to get her perspective, she knows she's earned their trust and she's doing something right.