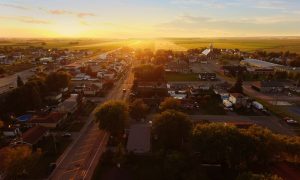 There's no one way to describe a rural community. What surprises people is the overall strength and prosperity found in many small to mid-sized towns, as they fill critical niches, including agriculture, industry, mineral extraction or providing a major service hub, creating growth and attracting families looking for that small-town quality of life. Where there are many distressed rural communities, many have strong sectors and a robust workforce to sustain them. When evaluating the state of the rural economy, it depends on the type.
As you map out your community's strengths and consider ways to build on them, the following can inspire ideas. These are some of the core pillars of thriving rural economies. Score your community on their assets and strengths along with development opportunities. From there, you can brainstorm solutions and obstacles to set a course for the future.
1. Economic pillars
The first and most obvious step is mapping out the local economy. Ideally, your economy is built for resiliency and stability, with a variety of industries and sectors that create the foundation. Identifying the major sectors and job providers, starting with agriculture, is a start in finding your strengths and opportunities. These economic pillars can be industry and extraction and manufacturing. Your economic pillar can also be a major provider to the region, such as health care or secondary education.
2. Access to capital
The rural economy is often powered by local entrepreneurs, particularly family farmers and ranchers, B2B service providers and manufacturing startups. Behind each successful entrepreneur is a community lender that opened doors to capital, enabling them to launch and expand their venture.
These lenders are invested in their communities because the success of the lending organization is tied to the health of the regional economy. To create opportunities, lenders take a problem-solving approach to provide flexible terms, and customized loans to meet borrowers' needs. Strong borrowers also leverage other resources — such as SBA loans and secondary lending options. Through their efforts, they provide lending options for borrowers at great terms that give them room to grow.
3. Private-public partnerships
One of the challenges is getting a small community on the map to attract and sustain businesses. Private-public partnerships provide the tools to spark future development through site preparation — with the idea that the future occupant will more than repay the upfront investment through good-paying jobs and contributing to the tax base. Communities that establish economic development organizations, often helmed and advised by top local officials and business leaders, are future-focused and create growth opportunities.
4. Educational opportunities
This is a multifaceted area of economic development.
High-quality public education with one or more programs that put the school on the map is essential to attracting and retaining families. So are programs that provide high-quality childcare and preschool, to enable parents to work and prepare preschoolers for kindergarten.
Also, examine the available secondary education opportunities to train and prepare workers for the in-demand jobs in your area. This raises an altogether different opportunity for private-public partnerships. A tech program or university might see a benefit in establishing a satellite campus in your community in partnership with local sectors.
5. High livability and quality of life
When defining what makes your community a great place to live, it's a subjective exercise. Livability considers what the citizens as a whole need to live and thrive in a community. Look at core services, such as education, safety, access to groceries and supplies, the housing stock, health care and jobs. Take stock of local amenities, such as recreation and cultural opportunities. Finally, your town's sense of community is the beating heart of quality of life. For many, a chance to raise their families in a small town where everyone knows each other is the very definition of a high quality of life!
When evaluating the livability of your community, being future-focused is a great place to start. What are your opportunities? Consider growth patterns and what they indicate over the next 5, 10 or even 20 years. How might they impact future needs and shape priorities?
Agri-Access is always ready to help!
When farmers or ranchers are central to your business, only a secondary market financer that matches your passion for agriculture will do. We're focused on finding solutions to help you better serve your ag clients. If you have any questions, just reach out to one of our relationship managers to get the conversation started!