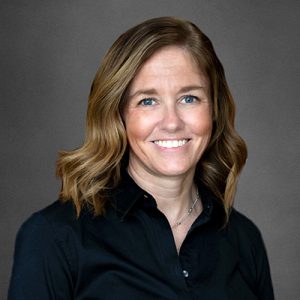 Before coming to Agri-Access, Joscelyn Smith has been all over the United States. She moved nine times when she was young, settled in Iowa for high school and college, then took off again to Las Vegas. After more than a decade in Nevada she and her family found their way back to Iowa.
Initially hired for a three-week stint through a staffing agency, by that first Friday she felt this was a place she could see herself long-term. "The people and the business were why I wanted to stay," she said. "The team is extremely client focused, and I felt very included from day one."
Supporting Strengths
Joscelyn's unconventional recruitment story reflects Agri-Access' broader commitment to recognizing and fostering talent. "What is amazing about Agri-Access, they allow team members to showcase their strengths and gives you opportunity to take that on in your job and grow in that skill."
As Marketing Specialist, Joscelyn's strengths in writing and communications have been integral to the development of Agri-Access' brand and voice. From mass communications to website content, everything goes through her at some stage in its development.
She's also responsible for client training and planning client events. She says the interactions with clients are probably her favorite part of the job. This gives her an opportunity to see the hard work come to fruition, when a social media campaign leads to a new client in training.
Looking Toward The Future
When asked about what she sees in the future for Agri-Access, Joscelyn doesn't hesitate. "Growing the east coast is my focus. Making sure our relationship managers are equipped with the marketing tools they need to grow those territories." She's already hard at work with social media advertising, and has had Agri-Access guest on a few different podcasts. Hopefully, by next summer, trade shows will begin again as well.
At the same time, she's proud of what Agri-Access has already established. "This is a very successful entity," she says, "and honestly, we're going to keep doing what we're doing. Our focus is our client service, that's where we drive results. It's why our existing lenders keep coming back to us.
Life Outside of Work
While she's certainly proud of her work at Agri-Access, Joscelyn is a strong proponent of tempering work with outside interests. "My family and I love traveling, going to the pool … that's my favorite place to be all summer long." She also enjoys joining her family and clients on golf outings, though she prefers to spectate.
About Agri-Access
Agri-Access provides secondary market financing for agricultural and rural land across the nation. Our team of experts work with you to find a solution that meets your clients' needs. To learn more about our products and services visit www.agri-access.com.