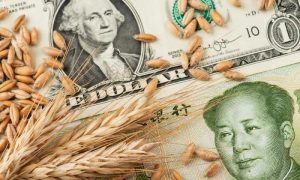 Is your financial organization looking at expanding your agricultural offerings? Whether you're new to the field of ag financing, or you're simply looking to branch into new commodities and loans, ag is a great field to expand your portfolio.
No substitute for expertise
However, agriculture by nature is subject to a tremendous number of variables, caused by weather and growing conditions, market performance and shifting government priorities. As lenders structure ag financing agreements to protect against risk, this introduces a problem for ag producers that are borrowing capital, because they need a loan structure that optimizes farm income and leaves room for growth and expansion.
To break the impasse, partnering with a secondary lender can introduce another source of capital that reduces your exposure to risk, while catering to the borrower's cash flow needs. But not all secondary lenders are alike. There is simply no substitute for deeply rooted expertise in agriculture. That's where the value of partnership with Agri-Access comes in.
Our secondary lending solutions are designed for agriculture by a team of passionate professionals. Many of us grew up in agriculture and are driven to build rural America. Our risk management process is a key area where we inspire confidence in our longtime lending partners, because our recommendations are based on deep industry knowledge and analysis. Here are some ways our risk management helps mitigate the uncertainties that accompany ag financing.
Formulated for agriculture
First and foremost, our risk assessment is designed specifically for agriculture, so you have industry-specific assessment of the ag producer's ability to repay the loan and manage their financial obligations. For traditional loans, our underwriters will examine the borrower's debt-to-asset ratio, cash flow analysis and collateral while factoring in — with assistance from our lending partners — the unique needs and circumstances of their ag specialty. With our subject matter expertise in multiple commodities — corn and soybeans, cattle, forestry products, produce, dairy and more — we're equipped to produce a reliable assessment of the borrower's overall financial performance, risk profile and overall credit worthiness to guide your lending decisions.
Fast, reliable decisions with Scorecard
Our Scorecard loan option offers your ag borrowers a fast, convenient way to get capital — in most cases, within two days or less. Unlike other rapid decision loans geared for enterprise, our Scorecard is built on a mathematical model that specifically caters to the agricultural industry. If your ag producer meets the requirements, they can enter their details via an online application and get the quick turnaround to support their operation. Because we tailored this loan assessment to the unique financial characteristics and challenges of the agricultural sector, our Scorecard loan option offers an accurate and informed lending decision tool you won't find in other rapid decision loans.
Alternative crops and rare commodities
When it comes to new and emerging ag commodities, finding a lender that can cater to the producer's cash flow needs is a significant obstacle for ag producers. Agri-Access fills the blanks with research analysis and support to help guide the lending decisions. We dive into industry-specific publications and connect with state and regional agricultural groups, gathering the data needed on everything from available subsidies, national and international supply and demand, processing requirements, the availability of labor and equipment. Our analysis enables our underwriters and yours to evaluate the viability of a new commodity and make informed decisions.
Land development loans for permanent plantings
Loans for permanent plantings, which include fruit-bearing trees and grape vines, are speculative in nature. New stock requires 4-7 years of development before it starts producing fruit, which leaves ample opportunity for weather and economic events to put both the crop and business in harm's way. Partnering with Agri-Access can make these loans more viable to financial organizations and the borrower. Our in-depth analysis provides a clear picture of the operation's cash flow, long-term viability, collateral, valuation and water plan.
Grow your lending power with Agri-Access
As a secondary lender, the value of a partnership with Agri-Access extends beyond the capital we offer to reduce your risk. We bolster your lending services with fast answers from Scorecard, along with our full suite of leasing services, all designed specifically for agriculture. But our risk management process is where we provide exceptional value to our lending partners. Our specialty is ag financing, so you get the depth and expertise you seek when making your lending decisions.
Learn about our participation loan offerings, and reach out to a relationship manager any time to get started.