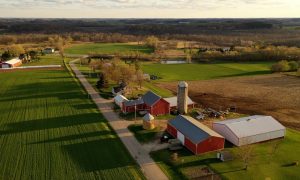 Driving the discussion in the 2023 Farm Bill is a strong and unified call to protect the crop insurance program.
As the 2018 program is set to expire at the end of September, the House and Senate Ag Committees are racing toward the deadline — though a year-long extension of the old bill is widely expected to pass, allowing the Farm Bill programs to continue until a final version reaches the floor for a vote.
What's at stake with the 2023 Farm Bill?
Lobbyists, farmers and directors from multiple farming organizations are busy educating their congressperson about the value of the crop insurance program, which makes private sector coverage available to producers through subsidies. These advocates of ag are making a strong push to protect and even enhance the popular program as conceived in the 2018 legislation, as it protects farming enterprises from commodity losses caused by weather events and market price declines.
Where does risk management fit in with the Farm Bill?
In addition to risk management, the Farm Bill establishes rules and guidelines for other ag programs, including conservation, commodities, trade and rural development. Yet, 80% of the $1.5 trillion of the bill's funding will go to anti-hunger programs. As multiple groups push for program changes and funding, ag advocates are keeping a watchful eye on the status of insurance commodities.
2023 Farm Bill priorities
What are the top priorities for the 2023 Farm Bill? Crop insurance with a focus on advocating for ag-friendly policies rises to the top.
Priority 1: Protect and strengthen crop insurance
The 2018 Farm Bill's federal crop insurance program (FCIP) established a successful partnership between the private insurers, the federal government and farmers. In 2021, the program covered on average 62% of premium expenses for producers, protecting 444 million acres and $150 billion in crop and livestock value. Farmers and ag groups are asking Congress to keep FCIP. However, there is some debate over whether the program would be helped or hindered with a permanent funding source for disaster assistance.
Read more in our blog: Farm Bill 2023: Don't let growing needs for disaster relief crowd out the crop insurance program
Priority 2: Advocate for agriculture
To say the Farm Bill is a complex piece of legislation is an understatement, and it will be critical for anyone with an interest in agriculture to make their voices heard. Once it passes, its impact on farmers and lenders over the next 4-6 years will be significant. Few lawmakers come from primarily rural districts, and for half of the house members and one quarter of senators, this will be their first-ever Farm Bill to negotiate. For these reasons alone, education about agricultural matters will be key to passing a bill that works for our nation's farmers. We urge our lending partners to identify opportunities to advocate for ag-friendly policies by staying informed as the Farm Bill progresses and connecting with their representatives and senators.
Discover how to get started by reading our blog: Farm Bill 2023: Why lending organizations make powerful agri-advocates, and what they can do
What's next for the Farm Bill?
Rep. Brad Finstad, R-Minnesota, is optimistic, telling Minnpost he expects only "tweaks around the edges" of the 2018 farm bill when it reaches its final version, echoing the sentiments of many farming advocates by referring to the crop insurance program as "really good" legislation. Though he's joined by other lawmakers in supporting higher reference points for the crop insurance program and other changes, he acknowledges these will be part of the balancing act.1
Ag can use strong advocates more than ever
As Congress hammers out the Farm Bill, it underscores how government policy has far-reaching effects in agriculture. Even a small change has the potential to have a significant financial impact on an operation – from the taxes assessed at the county level, to state-enacted environmental rules to subsidies programs funded by Congress. That's critical because ag is a powerful economic driver in the U.S, with 40 states pulling in an excess of $1 billion in annual revenues in farm income.2
As lenders, staying informed and aware of how government at every level is shaping the laws, taxes and rules that impact agriculture is critical. This enables you to assess the potential impact on your ag customers, so you can adjust your lending strategies accordingly. For example:
Zoning and land use decisions at the county and municipal level can impact how taxes are levied.
Laws and regulations governing conservation and wildlife preservation, adding processes and expenses.
Subsidies from state and federal government that help ag producers manage agriculture's multitude of variable outcomes, covering commodity losses, crop insurance program, disaster relief and support for conservation compliance.
Trade policies set by Congress or even the White House can affect a producer's ability to compete and profit in the global market. Import and export regulations along with trade agreements can move the needle on demand and pricing for everything from soybeans to dairy to pork.
Taxes levied can originate from anywhere, the local, state and federal level, property taxes, sales tax for inputs and equipment, etc.
As you evaluate these effects on your ag borrowers, untangling the complexities while ensuring compliance can be daunting for lenders. That's where Agri-Access comes in. We're more than a secondary lender. We enhance your lending services with a deep bench of experts. From appraisals to highly complex bespoke agreements, we can provide the resources and support to help you create lending solutions that leverage growth for your customers.
To get started, reach out to a relationship manager.
Sources
Finstad optimistic about new $1.5 trillion farm bill as lobbying intensifies | Minnpost
Farm finance indicators, state ranking, 2021 | USDA Economic Research Service