Farm Bill 2023: Don't let growing needs for disaster relief crowd out the crop insurance program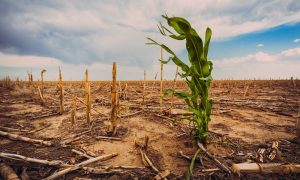 As Congress convenes to draft the 2023 Farm Bill, one thing we're keeping an eye on are policies impacting the future of programs that support agriculture: namely, the federal crop insurance program.
Under its current framework, the federal crop insurance program (FCIP) has created enormous value to the farmers, lenders and taxpayers through the innovations of the private-public partnerships. However, there are rising concerns that possible changes to farm safety net funding would create a conflict for the crop insurance program, weakening support for a program that many agriculture groups would like to see strengthened.
Federal crop insurance: A successful public-private partnership
What makes FCIP a success is its public-private partnership between insurers, the federal government and producers. With an outlay of $8.9 billion, it covers on average 62% of premium costs for producers, insuring 444 million acres and $150 billion in crop and livestock value in 2021.1
Now that the 2018 Farm Bill is set to expire in 2023, Congress must draft a new bill to set policy and funding for nutrition and agricultural programs. (The baseline for the new Farm Bill is expected to be released in spring of 2023.) As discussions ramp up, there are two core issues to be aware of that can be powerfully influential on what the FCIP looks like in 2024: The increased need for disaster relief funding and its possible impact on ongoing support for the federal crop insurance program.
The increasing need for disaster relief funding
Since the passage of the 2018 Farm Bill, the U.S farm economy saw significant support from Congress and the USDA with the allocation of billions in additional disaster relief payments to farmers. These payments were one-time funding.
Top farm relief allocations between 2018-22
Disaster assistance for the 2018-21 crop years
Prevented planting payments for 2019 crop year
Support in 2018-19 for retaliatory tariffs imposed by China
Support in 2020-22 for the COVID-19 pandemic
According to an estimate by the Congressional Budget Office (CBO), these ad hoc disaster payments during the current 2018 Farm Bill cycle amounted to more than $81 billion.1 The sheer volume is expected to raise questions: Is the farm safety net provided in the Farm Bill adequate? The rising need for relief will drive discussion on creating more funding for disaster events.
Do we need permanent disaster assistance?
One proposed solution to make disaster funding more predictable is creating a permanent disaster assistance program, which would allocate billions for disaster payments in the event of natural disasters, such as wildfire, hail, frost or flooding.
Along those lines, the incoming Republican chair of the House Ag Committee made remarks in December calling for the protection of the crop insurance title in the 2023 Farm Bill, but also strengthening it by finding a way to integrate disaster relief into the program.
"There's some things related to disaster relief that we can incorporate into crop insurance," says Pennsylvania Rep. Glenn Thompson. "I think that [would] be really helpful if we could."2
While the concept of a permanent disaster relief program is well-intentioned, it could create tension for excising safety net programs. Particularly if it's a stand-alone program. The billions required in funding would cause some members of Congress to ask, "Then why is a crop insurance program needed? And why should the federal government help subsidize it? It must not be working, if there's a need for some sort of permanent disaster program."
Not only that, but permanent funding for disaster relief has been tried in the past. These programs haven't worked that well. In fact, the intention of the crop insurance program was to reduce the reliance on disaster relief on farm income protection through an innovative model.
CBO rules create barriers
Supporters for a permanent disaster program would face significant political and funding hurdles. Congress endeavors to pass a "budget neutral" Farm Bill, based on the rules and baseline funding set by the CBO. To introduce a program with billions in new funding would be politically difficult. The Farm Bill funds agriculture programs as well as nutrition assistance programs. Finding a balance between these competing interests are a challenge on its own.
Bottom line, much of the agricultural sector would not want to see any erosion of support in Congress for the crop insurance program. If Congress chooses to address the ongoing needs for disaster relief in the Farm Bill, it should not come at the cost of crop insurance. Instead, focus on building on the success of the program, so farmers have access to that stable and predictable source of revenue protection when disaster hits.
Farm Bill Primer: Federal Crop Insurance Program | Congressional Research Service
Farm Bill Should Protect, Maybe Strengthen, Crop Insurance, says Thompson | Successful Farming