Calm communication and unflagging persistence: Brett Johnson uncovers winning formula in ag loan closings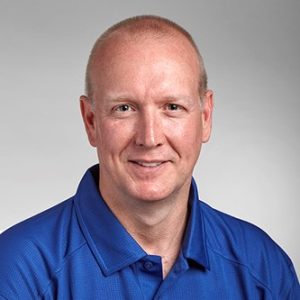 Ag-related careers are often rooted in a childhood spent on the family farm.
But not in Brett Johnson's case. Agriculture didn't enter his life until well into adulthood.
About three years ago, his family bought a parcel of land with a hayfield where they began cultivating forage crops.
That didn't inspire Johnson's career change from personal lending to ag lending. It was his experience with Compeer Financial.
"From start to finish, the closing process was enjoyable," Johnson said of the land purchase. "And that's when I said 'I want to be part of that company.'"
In the winter of 2021, he accepted a role as closing coordinator at Agri-Access. And the rest, as they say, is history.
The path from personal lending to ag lending
It's not every day you hear someone describe a closing process as "enjoyable." But Johnson had spent 18 years as a mortgage loan originator. He experienced both sides of an industry that was forever changed after the 2008 housing crash.
Through it all, he enjoyed helping his customers find the right mortgage to meet their needs. However, after the crash, new regulations introduced a lot more bureaucracy into the process.
As a result, the job "wasn't quite as fun," but rather, became frustrating.
So when his family bought the land, he noticed immediately that the lending process wasn't beset with requirements he encountered as a mortgage originator. Sure, there was the application and a balance sheet, but it was so much smoother and easier in key areas.
Cultivating a seamless closing experience for lending partners
As a closing coordinator, Johnson is learning to navigate the complexities that accompany ag lending, with factors like irrigation, livestock facilities, machinery, valuations and other aspects.
"After two-and-a-half years, I'm starting to feel like I know a thing or two — it takes time," Johnson said.
Apply persistence
Johnson emphasizes that effective communication and transparency are critical in the role of a closing coordinator. Once the loan clears underwriting, there is a time-sensitive period for his team to review the closing documents and track down any corrections and missing information from the loan originator, so everything's ready for a signature so they can lock in the interest rate quoted to the borrower by the deadline.
To keep the closing and post-closing process on track, Johnson believes in adopting a proactive approach and being persistent with follow-up requests. This is essential for preventing any missed deadlines while ensuring the process progresses efficiently, he says.
Focus on the details
Having an eye for locating errors amid the mass of figures and legal language is beneficial, and Johnson says that he and his colleagues share a common trait: a detail-oriented personality with an aptitude for numbers.
Maintain calm under pressure 
The role also requires flexibility because they can be working on several loan closings simultaneously, while catering to different work styles and changing deadline needs.
Through the challenges, he aims to prioritize his workload. There's a desire for all lending partners on the other side to experience a smooth, seamless closing process.
You might say Johnson works like a duck: Calm on the surface but paddling like heck underneath.
Help generously
More than anything, he appreciates the helpful, collaborative spirit of his team.
"That's why I work hard for the team. If I notice something that needs to be done, I do as much as I possibly can," he says. "I know how much it means to me when somebody helps me out. The nice thing is you never have to ask twice. Somebody always lends a helping hand."
"I wouldn't trade any of it!"
When Johnson isn't at work, he's busy: They have a 7-year-old and a 10-year-old at home, he's a volunteer firefighter and he has forage crops to cultivate.
"Needless to say, there's not a lot of free time anymore," Johnson says. "I wouldn't trade any of it – it's all fun."
Ready to learn more about Agri-Access lending solutions for your financial organization? Find a Relationship Manager in your region.