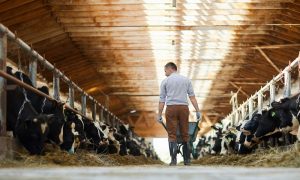 Sara Dorland, managing partner with Ceres Dairy Risk Management, recently presented on top trends and challenges facing the dairy industry to the member lenders at Agri-Access. These are some of the highlights.
1. Cheese production is about to ramp up
Cheese production is about to ramp up to feed the growing appetite for the high-protein snack here in the U.S. as well as abroad. Two new cheese plants will start operations in the second quarter, both located in the Texas panhandle, while other cheese brands including Valley Queen and AgroPur have announced facility expansions and increased capacity that will come online by mid-year at the latest. Leprino and Hilmar will follow with expansions expected in Texas and Kansas by 2025.
All that added capacity will require an additional 20 million pounds of milk per day. Higher demand means culling herds may be less appealing to dairy producers looking to cut near-term costs.
The expansion of cheese production points to a larger dairy trend: As Americans continue to cut back on bottled milk, they're more than making up for it by eating more cheese.
"We still haven't hit a bottom yet on class one milk consumption," Dorland says. "It seems like we shouldn't be terribly far away from that."
2. Demand for U.S. dairy exports should rise
Short term and long term, the global demand for U.S. dairy is looking bright. As China eases its Zero-COVID policies, Dorland expects U.S. dairy to bounce back as people resume travel and dining.
In the long term, environmental policies in other counties could benefit the United States dairy industry as well. Europe and New Zealand's new rules around methane capture and carbon release are expected to flatten growth in animal agriculture and milk production in these mature markets. U.S. exports will fill the need.
3. The recession forecast is softening, but expect a downturn
Good news for lenders, dairy producers and everyone else: Last fall's dire forecasts of a 2023 recession are looking a little brighter. We may be in for a downturn, but the economies in the U.S., China and Europe are all performing better than expected. U.S. employers are expected to retain their workforces to avoid staffing shortages in the future.
Global banks raised interest rates to tamp down inflation. Higher food costs did impact the dairy industry, particularly in the butter and butterfat products. Though cheese costs were 9% higher, retailers ended up absorbing these price hikes because "cheese has become the new loss leader, replacing bottled milk," she says.
4. Dairy producers face tighter margins in 2023
Most forecasts indicate a slow start to the year with lower milk prices that are hovering below the $20 mark. But there's some expectation that prices will lift in the second half of the year.
The challenge for producers is that they won't see the healthy margins they experienced in 2022, when market prices surged ahead of the elevated costs of feed, fuel and fertilizer. Though input prices are cooling, they're still higher than they were in 2021.
As producers are aware, futures are not accurately capturing the landed costs of products. Milk discounts are pushing net milk prices from the $18 forecasted range down to $17 or even the low teens.
That appears to be cutting into farm margins and could influence culling decisions once peak milk production passes, Dorland says.
5. New dairy construction is expected to slow
Plans for new dairy construction and expansions are showing signs of slowing, particularity in Texas and Kansas, which have seen several expansions. Costs per head have spiked from the $5,000-$7,000 range to the $8,000-$10,000 range.
That's a substantial cost increase, particularly when you consider this year's lower milk futures compared to last year's record-setting pace.
"Things feel a little bit different today than they did even six months ago when folks were looking at those expansions," Dorland says.
In place of expanding dairies, we may see an increase in vertical integration investments.
Reach out to your Relationship Manager to learn more about this webinar and lending options for your clients or to find a representative in your area, click here.