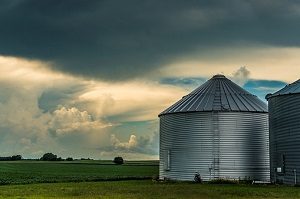 On-farm grain storage provides farmers exactly what they're looking for: Complete control over the quality of their grains.
Having grain bins on location opens better access to temperature and moisture management, which is critical for preventing mold, spoilage and insects. Farmers can also shelter their grain commodity from rain, frost, wind and dust while lining out operational expenses, including transportation and renting equipment and facilities.
More importantly, grain bins let farmers market their harvest when the timing is right for their operation. Whether they stagger their grain sales over time or wait for better prices, on-site grain bins can put farmers in a better position to maximize profits.
Financing solutions for grain bins: Loan vs. lease
When it comes to financing grain bins, there's no shortage of options. Farmers can tap into reserves, refinance, utilize the USDA's Farm Storage Facility Loan Program or take out a traditional loan. While all are viable, they aren't perfect options.
The biggest hurdle? Current interest rates. With a steady climb since mid-2022, financing grain bins would have a significant impact on an operation's working capital. This alone can make the idea of adding grain bins less feasible.
With leasing solutions from Agri-Access, farmers have a way to add on-farm grain storage with less impact on working capital. Here are some of the ways our leasing program can enhance your financial institution's lineup of products and provide producers with the financial flexibility they need to grow their operation.
Leasing: Asset control with a path to ownership
Leasing grain bins offer farmers the best of both worlds. They gain long-term assets but with much less strain on their working capital. Agri-Access structures its leases as rentals for tax and cash-flow planning purposes. An end-of-lease buyout option is built into the agreement, providing farmers a straightforward path to ownership.
In addition to gaining control of the asset from day one, leasing grain bins offers advantages that make a lot of financial sense for farmers, growers and ranchers.
Optimize cash flow for farmers
A typical lease requires no down payment and has lower monthly installments than loans. Compared to refinancing a farm mortgage, introducing a lease payment can be much less disruptive to a farmer's working capital. Either way, leasing makes farm enhancements financially feasible.
Enhanced tax benefits
Always urge farmers to discuss the unique tax implications for their operation with an accountant. But many producers find that leasing offers greater tax benefits over loans. Depending on the lease structure, farmers can report the lease as a business expense and may be able to deduct the payments in the year it was required. Tax deductions on loans originate from interest paid and depreciation.
Predictability in working capital
Farm equipment and facility loans are structured with shorter terms than leases. While shorter loan terms minimize exposure to the lender, it's not a convenient or predictable way for farmers to plan their finances. However, leasing gives farmers greater visibility into their available working capital.
Flexible payments
Agri-Access offers flexible options for the lease structure, including payment schedules and maturity dates, so you can tailor the agreement to cater to the farmer's cash-flow needs. With options like monthly, quarterly or semi-annual payments, you can roll out and market enhanced offerings right away.
Ease of transferring assets
Leasing bins and storage structures allow farms in transition a convenient and cost-saving path to adding assets. With the help of their tax or estate planning advisor, some producers structure the lease to allow the older generation to tap into the potential tax advantages tied into making lease payments. Then at the end of the lease, the next generations take the reins and buy the facilities. Because the grain bins were never a part of the older generation's asset portfolio to begin with, leasing can provide a smoother route for transferring assets.
Leverage growth through our leasing program
With our leasing program, your financial organization can empower farmers to enhance their enterprise by providing the means to invest in a wide range of essentials such as equipment, bins, vehicles, structures and more. We help make additional working capital available to them, enabling their growth and success. To learn about our leasing program, connect with us.