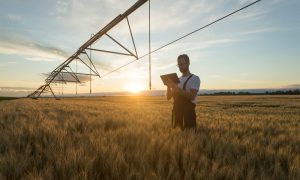 As you look ahead to 2023, which economic issues will be driving the discussion in your area? Your region will have its slate of projects, challenges and initiatives to tackle. Beyond that, here's a look at a selection of the universal issues driving the rural economy as we enter 2023.
1. Recession: Is it coming or is it already here?
Many financial experts expect a recession in early 2023, though a good portion of rural bank CEO surveys indicate it has already arrived. In October, nearly one quarter of the bankers reported the economy was already in recession. Business confidence is low, thanks to higher costs and a slowdown in overall economic activity. In response to the Fed's efforts to slow inflation by hiking interest rates, some 30.4% of bank CEOs would like the Fed to stop raising rates in its battle against inflation, while 39.1% recommend a half-point increase.1
2. Farmland prices begin to plateau
Bill Mergen, a senior real estate appraiser at Compeer, says he's expecting robust farm auctions and farmland sales heading into 2023, despite higher interest rates.
"Good cropland seems to know no limits as to where the value might end up," he tells Brownfield Ag News in an interview.
Mergen's assessment aligns with the November farmland price index, which remained above 50.0 for the 26th straight month. However, three in five (60.9%) community bank CEOs predict farmland prices will plateau in 2023, while one in five (21.7%) expect a decline.1
3. Farm Bill 2023 sets ag policy and funding
A new Congress will convene to draft and vote on the 2023 Farm Bill, which means at least five years of agricultural policy and funding is at stake. Of course, gridlock in Congress could potentially delay its passage (and extend the 2018 Farm Bill for another year or longer.) Nonetheless, now is a critical time to be heard and be an agricultural advocate. Tell lawmakers the value and impact the Farm Bill has on your rural economy and in maintaining a healthy food supply.
4. Workforce challenges persist as the workforce ages
The rural workforce is graying and shrinking. Between 2010 and 2020, the 65-and-older population grew by 22% whereas the working age population declined by 4.9%, according to the 2022 edition of Rural America at a Glance. In the coming decade, the 65+ population growth will continue rising as younger baby boomers reach retirement age.2
This population shift speaks to the ongoing challenges for rural job creators, including maintaining a skilled labor force, attracting working age families willing to put down roots in the community, and providing adequate health care for the baby boom generation.
Gains in productivity have driven decreases in agriculture and manufacturing jobs in the past 20 years.
5. Health care access continues to pressure rural areas
Health care continues to drive a significant area of job growth in non-metro areas, with a 21.5% employment increase between 2001 and 2019. Despite this, many rural areas lack adequate health care services to meet the needs of the aging population, which will become more pronounced as more people reach the age of 65.2
Although some non-metro communities serve as health care hubs to the greater region, distance and transportation are two significant barriers to access for many rural residents. On top of that, continued staffing shortages are putting even more pressure on rural health care systems. As of September 2022, some 65.5% of Primary Care Health Professional Shortage Areas (HPSAs) were in non-metro areas.3
In 2023, recruiting and training for doctors, nurses and other skilled health care workers will continue to drive economic development policy in many rural areas.
6. Broadband expansion presses on – are you covered?
Expanding high speed internet infrastructure will be critical for ag producers who are looking to innovate and gain efficiencies with increased adoption of connected technologies, such as robotics, artificial intelligence and nanotechnology.
The most recent broadband progress report from the FCC, from January 2021, indicates 14.5 million Americans lack access to broadband areas, primarily in rural areas. With the Broadband ReConnect Program awarding more than $1 billion in grants and loans in 2022 to underserved communities and territories, it remains to be seen just how far we have to go to close the gap.
Agri-Access is always ready to help!
When farmers or ranchers are central to your business, work with the secondary market financer that matches your passion for agriculture. We're focused on finding solutions to help you better serve your ag clients. Connect with one of our relationship managers to get the conversation started.
Sources
Rural Mainstreet Index (RMI) November 2022

| Creighton University

Rural America at a Glance 2022 Edition

| USDA Economic Research Service
Healthcare Access in Rural Communities | Rural Health Information Hub