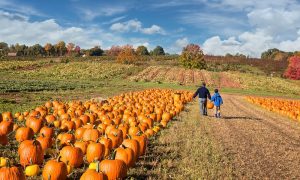 Agri-tourism can be a golden opportunity for farmers and ranchers. Pumpkin patches, farm-to-table feasts and pizza farms are just some of the rapidly appearing on-the-farm ventures that are resonating with the public and feeding their desire for authentic experiences. Adding these or other types of ag-centered experiences can enhance farm revenues and raise visibility. Because these connect urban visitors with people in rural areas, agri-tourism can be a powerful vehicle to enhance the public's understanding of where their food comes from.
As an ag lender looking at agri-tourism's potential, here's an overview of how this investment can enhance ag operations and diversify your portfolio.
Agri-tourism is on the grow
Agri-tourism is a new term, but the concept has been around for decades. Think dude ranches, corn mazes and the plethora of longtime "U pick" fruit farms and orchards. But just about anything that attracts (paying) visitors looking for a taste of the farm experience can be considered agri-tourism.
Its rapid growth indicates that people are looking to get in touch with the land, their sources of food, and the experiences that make it possible. According to the 2017 USDA Ag Census, agri-tourism raked in nearly $1 billion ($949 million) in annual sales — more than triple 15 years earlier.1 (The 2022 Census with its updated agri-tourism figures is scheduled for release in 2024.)
Whether your region is known for its ranchland, corn crops, dairies or orchards, the opportunity to branch out into agri-tourism can be limited to the imagination. These are some of the categories:
Day trippers: A quick drive out of the city brings visitors to unique farm experiences, whether it's picking peaches right from the tree or celebrating the fall harvest with pumpkins and corn mazes, or enjoying an outdoor meal at a pizza farm.
Educational: Showcases farming operations in an engaging format for students and other visitors. Some may serve as a vehicle to promote sustainability, restoration or renewable energy.
Health and wellness retreats: Where ag meets self-care, from onsite farm-to-table dining experiences to goat yoga to horseback-riding themed meditation retreats.
Immersive experiences: For seekers of authentic experiences looking to spend their vacation on a real farm or ranch and lend a hand with chores, whether it's milking cows, gathering eggs or driving cattle.
The power of agri-tourism for ag-advocacy
An agri-tourism enterprise can help farmers diversify their revenue streams and increase their farm income. It's also a great way to enhance their brand and raise visibility not only for their enterprise but for agriculture itself. Captivating hearts and minds through on-farm experiences is an effective way to be an advocate for agriculture.
Encounters between farmers and non-farmers is one way to address the growing "disconnect between farm and fork." Only 27% of surveyed adults say they have a "very favorable" impression of agriculture and food production. Less than one in five (17%) of Generation Z respondents had a "high trust" level of how food is grown and produced.2 In-person experiences can challenge some of the assumptions behind these statistics, and help people understand where their food comes from. At the same time, these face-to-face encounters can help mend the urban-rural divide through finding common ground.
Evaluating the risks and feasibility of an agri-tourism business
To make their vision a reality, producers may seek financing to build or update facilities to make them safe and suitable for the general public. These can include anything from adding a parking lot, updating a house to accommodate overnight guests, to constructing gathering spaces and public restrooms. While reviewing the loan application, scrutinizing the unique risk factors and feasibility of the business plan will be paramount.
These updates introduce an entirely new dimension to a farming operation, one where public safety (and the perception of it) are critical. The borrower may be a seasoned farmer or rancher, but may have knowledge gaps in launching a retail and hospitality type enterprise. When it comes to financing an agri-business, lenders may want to take a step back and understand the scope of planning laid out in the business plan.
As you review the risk factors and feasibility of financing the agri-business enterprise, these are some of the questions the producer should be prepared to answer in detail.
Market research: Does the producer have adequate data demonstrating that the sales and number of visitors would make this venture feasible?
Solvency: If revenues fall short, could the parent operation absorb the losses in a reasonable timeframe?
Regulations: Does the plan factor in state and local codes and requirements?
Safety enhancements: How will the producer reduce liability amid an influx of visitors? People, particularly youngsters, who have little experience with farm equipment and animals may need preventive measures like physical barriers and staffing.
Contingency plans: If things don't go to plan, due to weather, road construction or lack of business, what's plan B?
Financing agri-tourism ventures: Lender support is crucial
As creative concepts in agri-tourism continue to captivate the public, ag producers should find no shortage of opportunities to expand. Farmers that innovate to diversify their income stream build resilient enterprises. But these expansions are not possible without collaboration between lenders and agri-tourism operators. Lenders who support the growth of agri-tourism can make a significant difference in strengthening the agricultural sector.
Is your borrower adding acreage? Participation lending for real estate loans can protect a producer's working capital needs along with the liquidity of your financial organization. Agri-Access offers multiple solutions, including our quick-decision Scorecard offering, designed specifically for agriculture. Reach out to a relationship manager any time to get started.
USDA | 2017 Census of Agriculture
University of Minnesota | Addressing the disconnect between farm and fork