Future-focused farming trends: Precision agriculture, vertical farming and the opportunities for lenders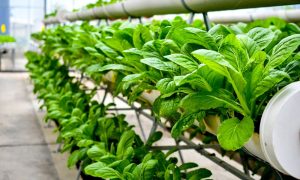 For centuries, new practices in agriculture have been based on the same premise: Raise production, mitigate risk. It's a simple premise. But just because it's simple, doesn't mean it's easy to find solutions that address weather, pests, commodity fluctuations and other risk factors that come with ag.
As lenders who are continuously surveying the ever-shifting climate and economic conditions farmers face, these future-focused farming practices — precision ag and vertical farming — are reshaping the industry.
Precision agriculture, with its integration of remote technology and data-driven decision-making, is helping farmers better allocate resources and maximize yields. Vertical farming has the potential to better meet the increasing demand for fresh produce — with greater safety and consistency.
For lenders like you, now is an opportune time to become more familiar with these developments and how they're being adopted in your region. Better yet, consider the possibilities of leveraging these opportunities by focusing on becoming a lending partner of choice to producers who are ready to invest in these improvements.
Vertical farming
Vertical farming offers a multitude of advantages for food producers, including substantial water savings and substantially higher yields from fewer acres. These farms are located indoors, including warehouses and repurposed shipping containers, giving growers complete control over the environment, growing conditions and nutrients of their crops. The challenge for lenders is significant, because vertical farms are high-capital, equipment-intensive operations with advanced systems that come with high energy demands.
To offset the startup risks, the products get better protection from the things that traditionally plagued yields and profits, particularly weather, pests or even the spread of foodborne illnesses such as E. coli. With the ability to set up these stations virtually anywhere in the country, producers can better meet consumer demand.
Precision agriculture
An increasing number of producers are using precision ag hardware to manage crops and livestock. But it's still a long way from being mainstream, with just one-quarter of U.S. operations using precision ag as of 2021.1 One survey shows that while larger operations are integrating the technologies, small-to-medium operations are postponing the investment, citing a lack of evidence they would achieve ROI.2
But several factors are expected to drive adoption, such as incentives to meet conservation requirements, and the ongoing demand to improve productivity by boosting yields and conserving inputs.
Precision ag presents the potential to mitigate variability risk. Using yield and soil mapping, for example, can result in more consistent yields. Automated guidance systems can also achieve labor and fuel savings by reducing hours and number of passes in the field. As data becomes more available to demonstrate the impact from long-term use and broadband expansion gets greater coverage in the rural U.S., producers may see a greater advantage in adopting these technologies.
Leveraging growth at a critical time
Lenders have a unique opportunity to become familiar with these developments and position themselves as trusted partners for producers looking to invest in these improvements. By staying informed and adapting to these transformative trends, lenders can seize opportunities and support the growth and success of the agriculture industry.
To expand your loan offerings for these advancements in agriculture, secondary lending can make it feasible for your lending organization. A participation loan from Agri-Access can provide the longer terms farmers and agricultural enterprises seek to grow their business, without having to take on outsized risk.
Simply reach out to a relationship manager any time to get started.
Voice of the U.S. Farmer 2022 | McKinsey & Company