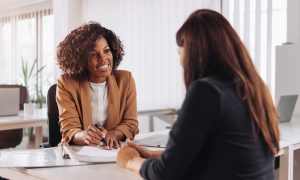 For as long as anyone alive can remember, brick-and-mortar banks have been a fixture of countless American communities, particularly in rural areas. But as digital banking services seek to transform the way individuals and businesses manage their finances and interact with their lenders, it's logical to wonder if these institutions are in jeopardy. Is the day fast approaching when banks will start disappearing from Main Street, USA?
The short answer is a resounding no. Change is certainly coming. But the demand and need for in-person, local experts means brick-and mortar buildings may just become more important than ever.
Digital services improve efficiency, communication and safety
Some of the most in-demand digital banking services are:
Money deposit, transfer and withdrawal
Bill payment
Monitoring spending and savings
At first glance, these might seem to undermine the need for a physical bank building in a given community. They constitute the bulk of many day-to-day activities that had formerly taken place with bank tellers.
However, by automating the most routine tasks online, banks are actually freeing up their staff to handle more complex and pressing needs. This improves efficiency all around and goes a long way to preventing lines and delays.
Handling routine tasks digitally can also improve communication. Customers receive up-to-the-moment information and are no longer dependent on snail mail or receiving the information in-person next time they arrive to make a deposit.
Finally, there's the health and safety aspect. With the arrival of the pandemic, banks with digital services in place were able to provide uninterrupted service to their customers in spite of restrictions on in-person activities. Even as the pandemic fades, digital banking will remain key to keeping customers connected during adverse health events, bad weather and more.
The demand for personalized, local service remains strong
Once digital and automated services are in place to handle the bulk of mundane activities, the need for local expertise and a personal touch doesn't go away. But it can become easier to access.
Whether local customers choose to come in-person or meet online, there's simply no substitute for a local banker who understands, invests in and supports their community. Demand for community banks remains high. And we see that reflected in data points collected from a 2022 survey:
60% of small business loans in the U.S. are funded by community banks.
70% of community banks anticipate growth greater than 5% over the next 12 months.
More than 75% of community banks have added wealth advisory services; and 56% have added trusts and insurance services in the past three years.
Community bank customers are growing increasingly savvy about the conveniences of online services. E-signing and video tellers, for example, have gone from cutting-edge solutions to mainstream offerings in just a few years. While such digital services are no substitute for a brick-and-mortar community bank branch, they certainly are an added enhancement that keep customers happy.
Agri-Access helps community banks meet customer expectations
Speed, responsiveness and efficiency — these three things define digital services. They also define the Agri-Access Scorecard program. Banks can expect a response to a new loan within 24 hours, and often much sooner than that. That's the kind of prompt turnaround that can keep your customers happy and returning to you time and again for their lending needs.
To learn more, reach out to one of our Relationship Managers! We're ready to help you keep your customers happy and stay on the cutting edge of what digital banking has to offer!