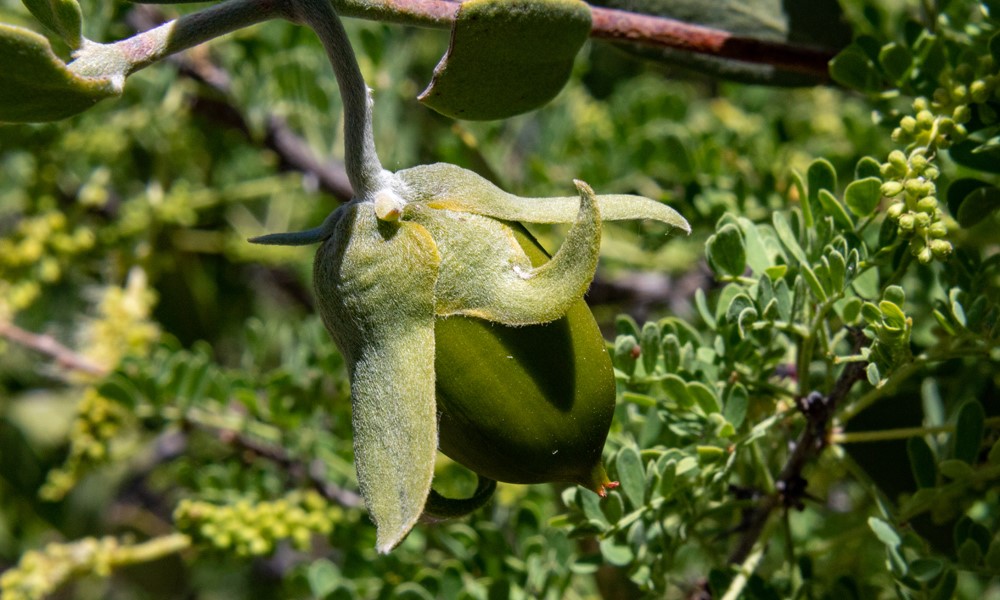 Everyone knows the dominant commodities in America: corn, soybeans, cattle, chickens, etc. At Agri-Access, we love working with our local banking partners to make funding for these staple operations easy and accessible.
However, we also love a chance to work with something unusual. What the USDA might call alternative crops and agricultural enterprises.
If you haven't given much thought to the potential of these rare commodities in the past, we'd love to get you up to speed. To that end, here are five unique crops and livestock gaining a foothold in U.S. agriculture.
1. Have you heard of jojoba?
Jojoba oil (or, more accurately, jojoba liquid wax ester) is a coveted ingredient in skin and hair care products. The plant it's derived from, Simmondsia chinensis, is a desert shrub native to parts of Arizona's Sonoran Desert.
As a desert cultivar, the jojoba plant is hardy. However, keeping the crop healthy can be challenging due to its frost sensitivity. A glut of growers took up jojoba in the 1970s and 1980s, lured by sky-high prices, but the vast majority abandoned the commodity when they realized it wasn't easy money. Since then, remaining growers in the Sonoran desert have finessed the process well enough to get fairly reliable harvests.
While the price fluctuates quite a bit, producers stand to make a decent profit off well-managed jojoba bushes. In 2014, the price per gallon of oil was a cool $110.
2. A sustainable future for milkweed floss
Milkweed, historically despised, is teetering on the edge of becoming a profitable crop in its own right. That's because its fiber is remarkable — it floats in water, it's warmer than wool, and it grows like … well, a weed. Add to that its life-saving reputation for Monarch butterflies, and it's not surprising some farmers are eager to fill fields with these flowers.
Despite a false start in 2017/18, where a company using the fiber in high-end winter jackets collapsed, textile researchers continue to be hopeful about the future of milkweed. Keep an eye out for this commodity blooming in the future.
3. But what about wasabi …
This spicy root is still rarely grown in the U.S. — which means when you get a side of wasabi in an American sushi restaurant, you're most likely getting a ground mix of horseradish and mustard instead.
A few different producers have been looking to change that over the past two decades. And with well-managed greenhouses, this famously finnicky plant can be quite profitable. One of the most prominent U.S. producers reported nearly 30% increases in sales year over year from 2010 to 2020. It seems like consumers just can't get enough of the real thing.
4. Lots to like about lingonberries
In 2015, a West Coast food writer scored a few pints of lingonberries at her local farmer's market. They were an accidental crop for the seller — she found them sprouting up in the spaces beneath her blueberries. But accident turned to actual interest pretty quickly, as word spread of the famous Swedish fruit cropping up in America.
Vaccinium vitis-idaea is presently cultivated to a limited extent in the Pacific Northwest of the United States, but also grows wild across the northern part of the country. The plant is well-suited to any climate known for growing blueberries and cranberries.
5. The return of the noble ostrich
Last on our list but absolutely not least is the venerable ostrich. Similar to jojoba, ostriches went through a wild boom and bust cycle in the 1980s, when the previously plentiful supply from South Africa was abruptly cut off. For a little while, everyone wanted a piece of the ostrich pie, especially in Texas. In 1993, people were paying tens of thousands for a breeding pair. Then the bottom fell out, and by 1997 you could barely get $500.
It was a disastrous end that has kept producers wary for decades. But recently, the healthy nature of ostrich meat has been feeding talk of a comeback. Smaller-scale operations seem poised for a solid, sustainable run, while industrial operations may have more work to do to persuade Texas and the wider United States on their product.
–
These five are just the tip of the iceberg for unusual commodities, and that's something to be excited about. Agri-Access is always ready to consider a new opportunity, no matter how unique or rare, and we love helping our partners learn about and fund the future top crops of America. Get in touch with a relationship manager today to find out how we can help your unique commodity flourish.