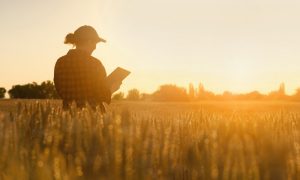 Digital banking services tout features that promise speed and convenience. It's easy to understand how that would be appealing to rural customers. As community banks plan their customer retention and business growth strategies, here are six ideas to explore for their ag-based customers and communities.
1. Emphasize superior, personalized service
The personal relationships within these walls embody one of the cornerstones of the small community's way of life. The tellers, lenders and bankers live and work alongside their customers, and know them by name. Embrace that as a part of the company culture. Take it a step further and position yourself as a financial organization that's tapped into the local economy, and shares a common interest in contributing to a robust, thriving ag economy.
2. Offer the best of both worlds: Tech tools and personal service
Community banks that have embraced digital tools offer their ag customers the best of both worlds. Tout the streamlined lending options and cash management tools that offer tangible convenience for all customers. But where you make the biggest difference is customer service. Your customers can always reach a human who can help, by phone, email or in-person at a local branch location.
3. Offer special incentives and value-adds
Instead of the cash signup bonuses that some digital banks offer, think of other incentives that speak directly to your local base. A few ideas to start with:
Community giving events, where customers can donate to a local cause with a match from the bank.
Partnerships with firms offering digital money management tools and apps can provide access to premium services to active account holders. These tools promote good money habits and safer online banking while making life easier for the customer.
Matching deposits in kids' savings accounts, and cash rewards for good grades is a great way to build goodwill with local families.
4. Invest in cash management tools for ag-entrepreneurs
Incorporating specialized services like cash management tools helps local ag businesses and producers better manage the inflows and outflows of their working capital. For example, remote deposit capture (RDC) streamlines accounts payable of paper payments and allows same-day deposits without leaving the office. ACH (Automated Clearing House payments) facilitate electronic payments. Both improve cash margins and cut back on time-consuming administrative tasks.
5. Enhance fraud prevention services
It's important to emphasize that fraud doesn't simply strike large, high-profile businesses. Between phishing attacks and business email compromise (BEC), it's only a matter of when, not if, local ag entrepreneurs find themselves in the crosshairs of a cyberthief. Community banks already have a reputation for flagging transactions that appear suspect. Enhance your services and abilities with treasury management tools and services that can add an extra layer of verification before processing.
6. Highlight your expertise of the local ag economy
Only at a local community bank can your customers unlock access to expertise that's relevant to their region. Community bankers are deeply knowledgeable about the local ag-economy, which can guide a producer's decisions. Not only that, but community banks can provide more lending options to local ag-entrepreneurs by participating in secondary market financing. By choosing a financing company specializing in agri-lending, your core customers will access even more capital to grow their business. And you'll gain the ability to offer better lending products with longer terms and better rates.
Agri-Access is always ready to help!
When farmers or ranchers are central to your business, only a secondary market financer that matches your passion for agriculture will do. We're focused on finding solutions to help you better serve your ag clients. If you have any questions, just reach out to one of our relationship managers to get the conversation started!